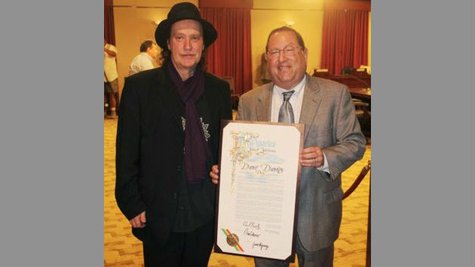 Founding Kinks guitarist Dave Davies is being honored with his own day today in Los Angeles. At a ceremony held Friday at the Van Nuys branch of L.A.'s City Hall, the L.A. City Council presented the 66-year-old Rock and Roll Hall of Famer with a copy of the proclamation declaring Sunday to be Dave Davies Day.
The decree celebrated Davies' long and storied career and detailed his many achievements of those of his old band. A segment of the proclamation reads: "Dave Davies is a grand master of song, an impassioned vocalist and a much heralded guitarist -- and a beloved and treasured co-founder of perhaps the greatest rock and roll band to ever grace any part of this universe: The Kinks."
Councilman Paul Koretz , an avid Kinks fan, was responsible for organizing the tribute to Dave. Speaking with ABC News Radio on Friday, the official explained, "This is around the 50th anniversary of the founding of The Kinks and [Davies is] in town for a concert near Los Angeles, and I thought if I could bring him in to City Hall, I would have the city declare Dave Davies Day and give him a little recognition."
Koretz said the rock veteran "seemed very touched" by the honor, adding, "It was a very cool thing." A photo from the ceremony has been posted at Davies' official Facebook page.
The councilman reports that he's planning to be on hand tonight when Dave performs at the Canyon Club in the L.A. suburb of Agoura Hills, where he will join the Kinks star onstage and "re-present the commendation" to him. Davies also invited Koretz to sing one of his favorite Kinks tunes with him. Koretz noted, "If we do that it'll either be 'Death of a Clown' or 'Living on a Thin Line,' which is actually my favorite Kinks song, so that's most likely."
Davies currently is winding down a brief U.S. tour in support of his just-released solo album, I Will Be Me . The trek wraps up on Tuesday with a performance at the San Diego County Fair in Del Mar, California. Check out more information about the album at CleoRecs.com .
Copyright 2013 ABC News Radio