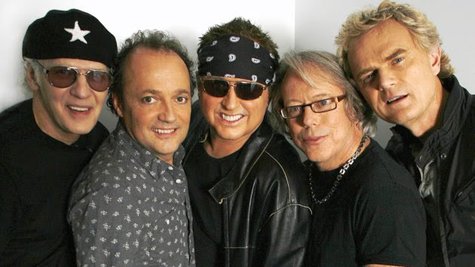 '80s rockers Loverboy is set to launch a new North American tour that will see them visiting a wide variety of cities through the summer and into the fall. The trek gets under way on Saturday in Syracuse, New York, with confirmed dates scheduled until an October 19 appearance in Panama City Beach, Florida.
While most of the shows are headlining gigs, the Canadian band also will be performing alongside several other popular artists at select concerts, including recent tour mates Pat Benatar and Neil Giraldo , as well as Foreigner , REO Speedwagon , Night Ranger , Ratt and Creedence Clearwater Revisited .
Loverboy continues to support their 2012 studio effort, Rock 'n' Roll Revival . The 12-song collection features three brand-new tunes along with updated versions of the group's best-loved songs, such as "Working for the Weekend," "Turn Me Loose," and "Lovin' Every Minute of It."
Here are all of Loverboy's upcoming tour dates:
6/8 -- Syracuse, NY, Taste of Syracuse*
6/15 -- Laughlin, NV, Avi Resort & Casino
6/22 -- Petaluma, CA, Sonoma-Marin Fair
6/23 -- Pleasanton, CA, Alameda County Fair
6/28 -- Omaha, NE, Bank of the West Celebrates America, Memorial Park
6/29 -- Las Vegas, NV, Cannery Casino
7/3 -- Ashland, KY, Summer Motion Festival
7/5 -- Dayton, OH, Fraze Pavilion**
7/7 -- Milwaukee, WI, Summerfest Uline Stage
7/11 -- Prairie du Chien, WI, Rock on the River***
7/12 -- New Town, ND, 4 Bears Casino
7/27 -- Royalton, MN, Halfway Jam+
7/28 -- Chicago, IL, Taste of Lincoln Avenue
7/29 -- Olds, Canada, Olds Agriculture Society Grandstand
8/2 -- Regina, Canada, Queen City Ex
8/3 -- Mankato, MN, Ribfest
8/4 -- Grand Rapids, MI, WLAV Anniversary Celebration
8/9 -- Detroit, MI, Rockin' on Riverfront, GM Renaissance Center
8/10 -- Edmonton, Canada, The Edmonton Rock Music Festival
8/17 -- Spanish, Canada, Rock n' Roar Spanish, Four Seasons Resort
8/21 -- Rhinebeck, NY, Dutchess County Fair**
8/30 -- Salem, OR, Oregon State Fair++
9/2 -- Vancouver, Canada, Pacific National Exhibition
9/6 -- Knoxville, TN, Tennessee Valley Fair
9/13 -- Oklahoma City, OK, Oklahoma State Fair
10/19 -- Panama City Beach, FL, Seafood & Wine Festival+++
* - with Pat Benatar and Neil Giraldo
** - with Night Ranger
*** - with Creedence Clearwater Revisited
+ - with Steelheart and Ratt
++ - with REO Speedwagon
+++ - with Foreigner.
Copyright 2013 ABC News Radio