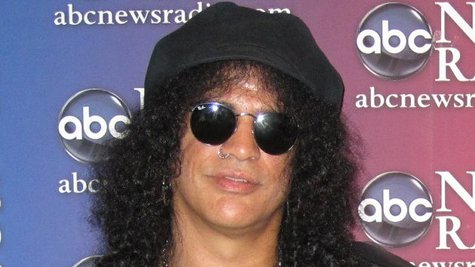 Slash is set to hit the silver screen this fall, but he won't be doing any acting. On October 4, the former Guns N' Roses guitarist will release the soundtrack he created with Nick O'Toole for the horror film he co-produced, Nothing Left to Fear .
"It's been equally intriguing for me to be involved with producing, writing and performing the music in Nothing Left to Fear ," says Slash in a statement. "Film scoring prompts me to engage different styles of writing and guitar playing that don't always present themselves when I make rock 'n' roll records."
The Nothing Left to Fear soundtrack will features the film's score as well as original songs "Nothing Left to Fear," featuring Myles Kennedy , and an instrumental titled "Welcome to Stull." If you pre-order the release at PledgeMusic.com/Slash now, you'll get access to exclusive content and merchandise.
Nothing Left to Fear stars Anne Heche and James Tupper and will arrive in select theaters across the country on October 4. The film will be available for purchase on DVD and Blu-ray starting October 8.
Here is the track list for the Nothing Left to Fear soundtrack:
"The Road to Stull"
"Cold Welcome"
"Lamb's Blood"
"One Choice, Two Fates"
"A Prayer"
"Dark Dreams"
"Sermon"
"The Tooth"
"Retrieval"
"Silent Secrets"
"Pain and Premonition Part 1"
"Pain and Premonition Part 2"
"Observations"
"The Secret Tower"
"Do Your Part"
"Don't Forget"
"A Flash and a Feeling"
"Abduction"
"Bleeding In"
"Urgency"
"Have Faith"
"The Decline"
"Trauma"
"The Blood Lust"
"Our Broken Home"
"Revelations"
"No Safety in Numbers"
"Childhood's End"
"The Fear
"The Perfect Circle"
"Nothing Left to Fear" (featuring Myles Kennedy)
"Welcome to Stull"
Copyright 2013 ABC News Radio