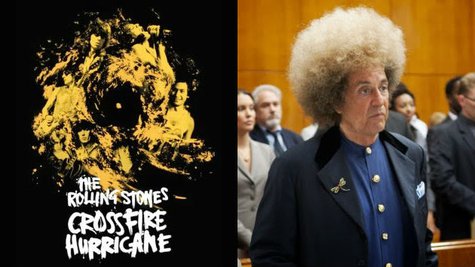 The Rolling Stones just wrapped up their 50 and Counting Tour last Saturday in London, but now the rock legends have something new to celebrate. Crossfire Hurricane , the 2012 documentary commemorating the band's 50th anniversary, has scored four nominations for this year's Primetime Emmy Awards.
The film, which premiered on HBO last November, is in the running for the Outstanding Documentary or Nonfiction Special honor, as well as for trophies in three technical categories. Mick Jagger served as one of the producers for the flick.
Another music-related program that picked up multiple Emmy nods was HBO's Phil Spector biopic, which nabbed a whopping 11 nominations. The film, which was written and directed by celebrated playwright David Mamet , will compete for the Outstanding Miniseries or Movie prize. In addition, Al Pacino , who portrayed Spector, and Helen Mirren , who played the eccentric music producer's lawyer, Linda Kenney-Baden , are up for Outstanding Lead Actor and Lead Actress in a Miniseries or a Movie, respectively.
Other noteworthy music-themed programming that scored nominations include The Kennedy Center Honors , which featured a memorable tribute to Led Zeppelin , and the star-packed 12-12-12: The Concert for Sandy Relief . The former show garnered four nods, while the latter will vie for awards in two categories.
The 65th Annual Emmy Awards, hosted by Neil Patrick Harris , will be held at the Nokia Theatre L.A. LIVE in Los Angeles on Sunday, September 22. For a complete list of nominees, visit Emmys.com/nominations .
Copyright 2013 ABC News Radio