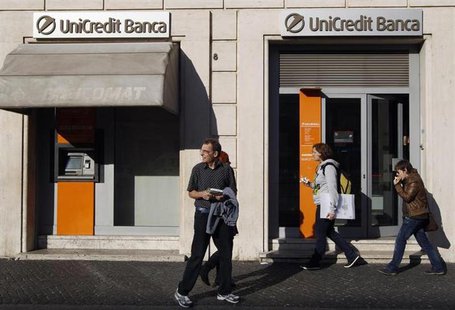 MILAN (Reuters) - Rating agency Standard & Poor's cut its credit ratings on the two biggest Italian banks, UniCredit and Intesa Sanpaolo , as well as that of insurer Generali , following its downgrade of Italy's sovereign rating.
Ratings for UniCredit SpA, the parent company of UniCredit, and the long-term rating of Intesa Sanpaolo, were lowered to 'BBB' from 'BBB+', both with a negative outlook, the two lenders said on Friday.
Generali was reduced to 'A-' from 'A', with a negative outlook, Italy's biggest insurer said in a statement.
The moves followed an S&P downgrade of Italy's sovereign credit rating to BBB from BBB+, with a negative outlook, on Tuesday.
In a separate statement, S&P said it also downgraded Mediobanca and put on creditwatch with a negative implication 23 Italian lenders, including Mediobanca, Banca Popolare di Milano , Banca Popolare dell'Emilia Romagna , Banco Popolare , Credito Emiliano and Ubi Banca .
"We expect to resolve the creditwatch placements over the coming weeks," said the ratings agency.
Together with its downgrade, S&P revised down its economic outlook for Italy, projecting growth to contract 1.9 percent this year, compared with the government's forecast for a 1.3-percent fall in output.
(Reporting by Francesca Landini; Editing by Jennifer Clark, Steve Scherer and Bernadette Baum)