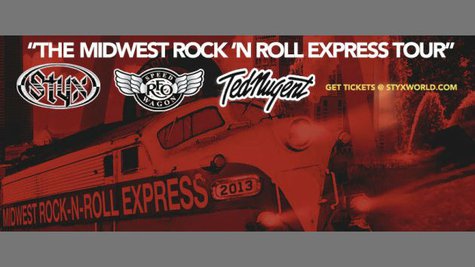 The 2013 Midwest Rock 'N Roll Express tour with Styx , REO Speedwagon and Ted Nugent may be over, but money raised during the trek will continue to help a variety of people in need around the U.S.
Styx and REO's Rock to the Rescue organization collected thousands of dollars for various local charities along the tour route, and also raised $108,000 for the Boston One Fund, which provides support for those affected by the Boston marathon bombings.
At each stop of the Midwest Rock 'N Roll Express tour, a guitar signed by members of Styx, REO and Nugent's band was raffled off, with most of the money going to the Boston One Fund.
Rock to the Rescue was founded by Styx's Tommy Shaw and REO Speedwagon's Kevin Cronin in 2001 following the 9/11 terrorist attacks. The organization helped put together the star-studded Volunteers for America concerts in Atlanta and Dallas that raised more than $775,000 for 9/11 victims and New York City's Port Authority police department.
Rock to the Rescue, which is now overseen by Shaw's daughter, Hannah , has continued since as a nonprofit that encourages healthy communities by supporting local grassroots organizations.
Copyright 2013 ABC News Radio