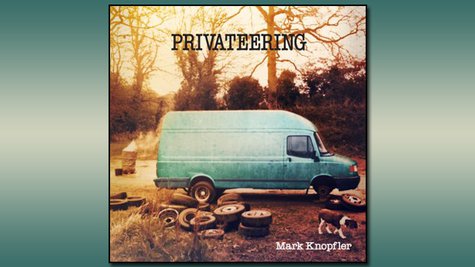 Mark Knopfler 's latest album, Privateering , is finally set to get its release in the United States. The two-CD collection, which initially was issued in the U.K. last September, will hit U.S. stores on September 10 thanks to a new worldwide deal the ex- Dire Straits frontman has signed with Universal Music Group's Verve Records label.
In a statement, the singer/guitarist explains that he decided to release Privateering as a double album "because of the sheer volume of material" he had amassed. He adds, "I didn't want to separate songs into genres and I didn't want to leave too many songs on the shelf. I just wanted it to be a reflection of the fantastic sessions we had."
Knopfler worked with his longtime solo band on the record, including former Dire Straits keyboardist Guy Fletcher . The album, which is Mark's first ever two-disc studio effort, also includes contributions from Fabulous Thunderbirds singer/harmonica player Kim Wilson and acclaimed country musicians Paul Franklin and Tim O'Brien .
Knopfler's new label agreement comes after he ended a 35-year association with Warner Bros. Records.
"Mark has long been one of the most innovative and successful artists in music," says Universal Music executive Max Hole . "We're thrilled he's decided to sign to Verve so that we are now working with him everywhere across the world."
Copyright 2013 ABC News Radio