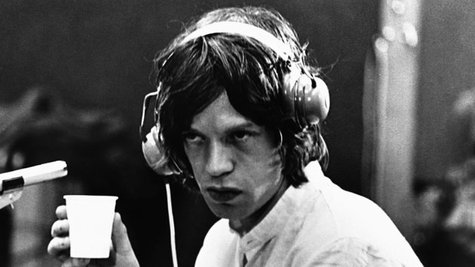 A lock of Mick Jagger 's hair has brought some big bucks at a memorabilia sale hosted by Bonhams auction house Wednesday in London. The snippet sold for $6,040 , nearly twice as much as expected.

Bonhams' website states that the clipping was put up for bid by Chrissie Shrimpton , the younger sister of former supermodel Jean Shrimpton , who dated the Rolling Stones singer in the mid '60s. The Shrimptons' grandmother saved the hair after it was snipped by Chrissie when she and Mick "were staying at her parents' farm." The hair apparently was given to Chrissie's aunt after her grandmother died and then came back into Chrissie's possession after the aunt's death.
The auction also featured a wide variety of other rock-related collectibles. Among the items bringing in the most money were a Martin acoustic guitar owned and played by Led Zeppelin 's Jimmy Page , which sold for almost $40,000; a set of handwritten lyrics from David Bowie to the song "The Jean Genie" that was purchased for more than $28,000; and a Vox 12-string electric guitar belonging to Bowie went for more than $20,000.
Proceeds from the sale of the hair will be donated to Changing Faces, a U.K.-based charity that supports people with disfigurements to the face, hands or body.
Copyright 2013 ABC News Radio