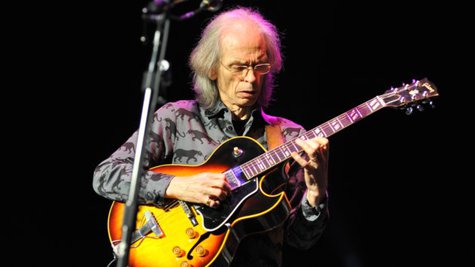 Steve Howe is, of course, best known as the lead guitarist of Yes , but since 2006 he's been pulling double duty, taking part in a reunion of the original lineup of the prog-rock supergroup Asia . However, the virtuoso musician has announced that he's decided to depart Asia to concentrate more on Yes, as well as on other projects.
In a statement posted on his official website, Howe writes, "I have left Asia to concentrate on Yes, my solo work & my Trio. I've enjoyed the 6 years of touring and recording with Asia, but now it's time to focus more on the above mentioned formations."
Howe's exit will by no means signal the end of Asia. The band already has recruited a replacement, young guitar whiz Sam Coulson , and has plans to get back on the road and to record a new studio album titled Valkyrie this year.
In a message on Asia's official site, the band calls Coulson "a wonderful player, world-renowned amongst guitar virtuosos." The first confirmed concert for the group's new lineup will be at the 2013 Sweden Rock festival, scheduled for June 5-8 in Solvesborg, Sweden.
Commenting about the change in the band, singer/bassist John Wetton says, "Asia is ready to take its next steps along this remarkable road. We cannot wait to perform again for the fans and also to unveil some of the new material, of which we are very proud." Keyboardist Geoff Downes -- who also plays with Yes -- adds, "We look forward to writing another chapter in Asia's history," while drummer Carl Palmer declares, "We're all looking forward to the next decade of great Asia music."
Copyright 2013 ABC News Radio