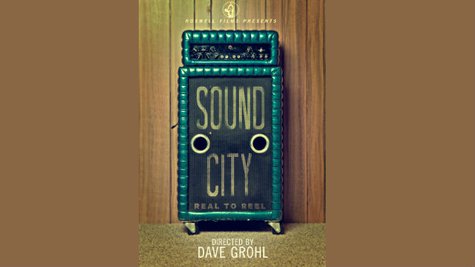 Organizers of the 2013 Sundance Film Festival recently announced that Foo Fighters frontman/ex- Nirvana drummer Dave Grohl 's star-studded documentary, Sound City , will be premiering at the event, and now the exact date has been revealed. The movie, which includes interviews with and/or performances by Paul McCartney , John Fogerty , Stevie Nicks , Lindsey Buckingham , Neil Young , Tom Petty , Rick Springfield and many other artists, will debut on January 18 at The MARC theater in Park City, Utah.
Grohl has scheduled a unique concert that same day to celebrate the flick's first screening. The rocker and a number of as-yet-unrevealed artists from the film will perform under the moniker Grohl's Sound City Players at Park City Live in Park City.
"The film Sound City showcases the most talented group of musicians in the world and we are thrilled they chose to celebrate the documentary at Park City Live," the venue's CEO, Kathryn Burns , says in a statement. "The evening will be spectacular and we look forward to seeing who will join Dave Grohl and the Sound City Players onstage."
Ticketing information for the concert, as well as the complete list of performers, will be revealed in the coming weeks.
Sound City profiles Los Angeles' legendary Sound City Studios, where Grohl and Nirvana recorded the band's iconic 1991 album Nevermind . It also features many other famous musicians who have worked at the now-closed studio during their careers.
Copyright 2013 ABC News Radio