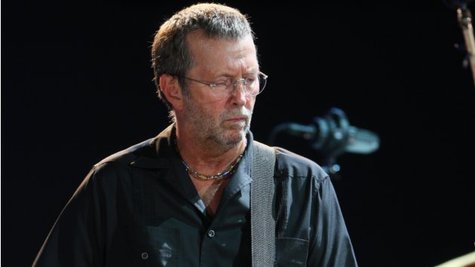 Eric Clapton is gearing up to launch a new U.S. tour to promote his forthcoming album, Old Sock , but the guitar master says he likely won't be mounting many more extended road trips. In a new interview with Rolling Stone , the 67-year-old rock legend reveals, "When I'm 70, I'll stop. I won't stop playing or doing one-offs, but I'll stop touring, I think."
Clapton says that while he still enjoys the performing aspect of touring, he's getting weary of the traveling. "If I could [just perform] around my neighborhood, that would be great," he admits. "You have guys in Texas that play their circuit, and it keeps them alive."
Clapton adds that the only way doing a lengthy tour is bearable for him these days "is by throwing so much money at it that you make a loss."
He also points out that he's fed up with such inconveniences as dealing with airport security. "I never get it right," he declares. "I forget to take off my belt, or I have change in my pocket. Next thing I know, 'Can you come over here please?' I just don't want to do that anymore."
Clapton's U.S. tour gets under way with a March 14 concert in Phoenix and culminates with a new edition of his Crossroads Guitar Festival that's scheduled for April 12-13 at New York City's Madison Square Garden. A European leg will follow. Old Sock hits stores on March 12.
Copyright 2013 ABC News Radio