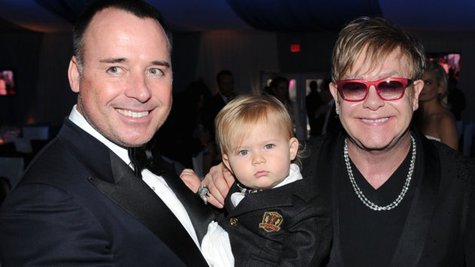 Elton John 's annual Oscar-viewing party gets under way this Sunday at West Hollywood Park in Los Angeles, and the A-list guests can look forward to an evening of great food, great music and raising money for a great cause: Elton's AIDS Foundation.
While watching a live telecast of the 85th Annual Academy Awards on ABC, guests will chow down on a sumptuous menu prepared by celebrity chef Gordon Ramsay . Among the dishes they'll enjoy, according to the Los Angeles Times : chilled Dungeness crab, beef short ribs, roasted red snapper with jasmine fruit rice, roasted beet and goat cheese salad, grilled cheese sandwiches, Gorgonzola mac 'n' cheese, BBQ chicken bites, lobster-stuffed deviled eggs and sticky toffee sweet pudding cake.
After the telecast, a live auction will take place offering luxury goods and one-of-a-kind celebrity experiences, with proceeds going to the Elton John AIDS Foundation. Then, rising British singer Emeli Sandé will take the stage for a special performance, and a deejay will keep the music going all night.
The co-chairs for the event this year include pop singers Miley Cyrus and Katy Perry ; and actors Hugh Jackman , Neil Patrick Harris , Tyler Perry and Sharon Stone ; among other big names. John and his partner David Furnish will, of course, host the party, and their sons Zachary and newborn Elijah may even make guest appearances. Last year, E! Online reports, there was a special area at the bash where Elton invited his closest friends to visit with Zachary, who was then 14 months old.
The annual event has raised nearly $34 million for the Elton John AIDS Foundation through the years.
Copyright 2013 ABC News Radio