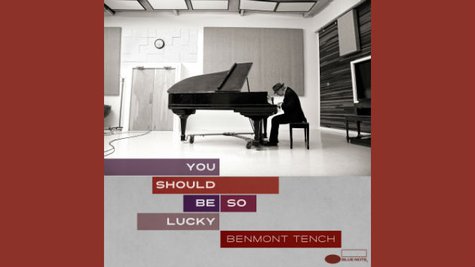 Some big-name rock stars lent their talents to Tom Petty & the Heartbreakers keyboardist Benmont Tench 's very first solo album, You Should Be So Lucky , which is scheduled to hit stores on February 18. Ringo Starr and Petty himself contributed to the project, as did popular Americana artists Ryan Adams and the duo of Gillian Welch & David Rawlings .
Tench takes on lead-vocal duties, as well as playing piano and organ, on the album, which was produced by veteran studio whiz Glyn Johns .
"Glyn is one of the greatest producers and engineers in the story of rock 'n' roll," says Benmont. "He has excellent taste, and he brooks no nonsense. He tells you exactly what he thinks, and he backs it up. I love him to death."
Tench wrote or co-wrote all the songs on You Should Be So Lucky except for two -- covers of the traditional tune "Corrina, Corrina," and the 2012 Bob Dylan composition "Duquesne Whistle." His original songs were amassed over the course of the 37 years he's spent with The Heartbreakers.
Other artists featured on the album included producers Don Was and Ethan Johns , Glyn's son, who made up part of the core band that backed Tench during the recording sessions.
You Should Be So Lucky can be pre-ordered now at Amazon.com as a CD and as a high-quality, two-LP vinyl set featuring a pair of bonus tunes. The album's lead track, "Blonde Girl, Blue Dress," is streaming now at Blue Note Records' official SoundCloud page. Tench tells RollingStone.com that Starr played drums and tambourine on the tune.

To celebrate the release of You Should Be So Lucky , Tench will play two intimate, sold-out shows at the Los Angeles club Largo, on February 20 and 21.
Copyright 2013 ABC News Radio