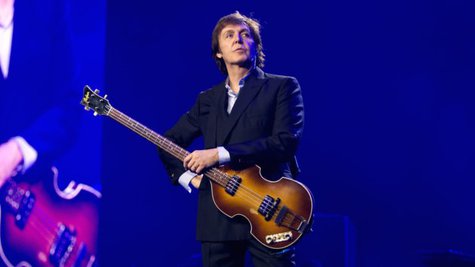 The final scheduled pro football game was played at San Francisco's Candlestick Park on Sunday, December 22, as the home town 49ers defeated the Atlanta Falcons 34-24. The stadium, which is expected to be demolished sometime in late 2014, also was the site of The Beatles ' last official concert, on August 29, 1966.
A variety of farewell events are being planned for the venue, one of which could be a performance by Paul McCartney . Back in August, San Francisco mayor Ed Lee told the San Francisco Chronicle that he chatted with the former Beatle just before his performance at the city's Outside Lands Festival, and McCartney said, "We should think about us doing the last concert" at Candlestick.
Now comes word that city officials are still working at making a farewell show by McCartney a reality. According to the San Jose Mercury News , Phil Ginsburg , general manager for the city's Recreation and Parks Department, said recently, "Keep your fingers crossed. It's a possibility."
Another Parks Department official, Sarah Ballard, added, "We're working on it. At this point, that's all we can say. It would be fitting."
In July 2008, McCartney took part in a farewell concert for another stadium with ties to Beatles history. He joined Billy Joel for a surprise performance at the final music show held at New York City's Shea Stadium, where the Fab Four played a pair of legendary gigs in the mid-1960s.
Copyright 2013 ABC News Radio