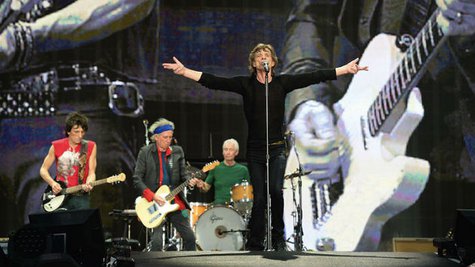 After playing a handful of concerts in Paris, London and the New York City area at the end of 2012 in celebration of their 50th anniversary as a band, The Rolling Stones got back on the road this year for a longer series of shows. The 2013 edition of The Stones' 50 and Counting Tour saw the British rock legends visit a variety of U.S. cities, as well as playing a trio of high-profile U.K. gigs.
The North American portion of the trek got under way on April 27 with a surprise club show at Los Angles' Echoplex, followed by the official launch at L.A.'s Staples Center on May 3. The Stones also performed in Oakland, San Jose and Anaheim, California, as well as Las Vegas, Toronto, Montreal, Chicago, Boston and Philadelphia before winding things down with a June 24 concert in Washington, D.C.
As with their 2012 shows, all of The Stones' 2013 concerts featured their former guitarist Mick Taylor as a special guest. In addition, an impressive variety of music stars hit the stage with the band at almost tour stop. Those artists included Gwen Stefani , Keith Urban , Katy Perry , Carrie Underwood , Tom Waits , John Fogerty , Bonnie Raitt , Dave Grohl , John Mayer , Taj Mahal , Sheryl Crow , Taylor Swift , Arcade Fire frontman Win Butler , Gary Clark Jr. , Brad Paisley , and Aaron Neville .
After the stateside outing, The Stones returned to the U.K. for three more major shows. On June 29, the band made its first-ever appearance at the famed Glastonbury Festival in Pilton, England, then played a pair of shows, on July 6 and 13, at London's Hyde Park. The Hyde Park gigs were captured for a concert film called Sweet Summer Sun that initially was screened in theaters in November and was released that same month on DVD, Blu-ray and as a digital video.
Meanwhile, The Stones were saluted in October by the Rock and Roll Hall of Fame as honorees of the 2013 edition of the institution's annual Music Masters Series. The week-long extravaganza included a variety of Stones-related lectures, exhibits and other events. It culminated with a tribute concert held at Cleveland's State Theater in Playhouse Square that featured such stars as the E Street Band 's Nils Lofgren , Soul Asylum 's Dave Pirner , and founding Faces / Small Faces keyboardist Ian McLagan .

The Stones will once again return to the road in 2014. The band has announced a new trek, dubbed the 14 on Fire Tour, so far is scheduled to run from late February to early April, and includes shows in the Middle East, Japan, China, Australia and New Zealand.
Copyright 2013 ABC News Radio