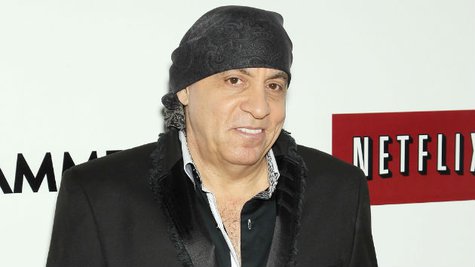 For most people, New Year's Eve is a great reason to celebrate in and of itself, but it has even more significance for E Street Band guitarist Steven Van Zandt . You see, the veteran rocker and actor married his wife, Maureen , on December 31 back in 1982.
While Van Zandt says he and his spouse of more than 30 years usually stay home on the big night, he reveals that this year may be different. He explains to ABC News Radio that "my last vacation was like 1978…but we are thinking about maybe taking a trip to Rome this year for our anniversary."
Steven adds that, "for me, traveling so much, it's a vacation to actually be home, but this time we are considering that [trip.]"
Van Zandt had an incredibly busy 2013, and it looks like the coming year will be much the same. He tells ABC News Radio that from Rome, he's planning to fly to Norway to begin work on the third season of his popular Netflix series Lillyhammer . After that, says Steven, "I will take a little break in February to go with Bruce [ Springsteen and the E Street Band] to South Africa and Australia, and then be back on the set in March and work right through June."
Asked what some of the highlights of 2013 were for him, the 63-year-old rocker noted that he's actually had "a very, very, very good two years." Among the achievements he singled out were the Rascals reunion concert/multimedia production he wrote and co-directed; Lillyhammer , which has become the most popular TV series ever in Norway; and the fact the Springsteen and the E Street Band were able to rebound from the 2011 death of saxophonist Clarence Clemons with a revamped stage show.
"We really had to reinvent ourselves and, at the same time, maintain our identity -- and that's tricky," he points out about his famous group. "I was very, very proud...we made a lot of good decisions."
Talking more specifically about the changes made to the Boss and the E Street Band's shows, Van Zandt says, "We were able to figure out a way to actually continue in a way that did make sense, as a summary of Bruce's life at this point." He explains that the concerts feature "everything from [Springsteen] playing with an acoustic guitar by himself to the biggest soul and gospel production one can imagine, with a five-piece horn section, three singers and percussion." In addition, Steven notes that the group's performances have become, and will continue to serve as tributes to Clemons and to late E Street Band keyboardist Danny Federici , who passed away in 2008.

Meanwhile, besides work on the new season of Lillyhammer and the upcoming tour with Springsteen and company, Van Zandt has one more big thing to look forward to in 2014. The E Street Band will be inducted into the Rock and Roll Hall of Fame in April in conjunction with receiving the Award for Musical Excellence.
Copyright 2013 ABC News Radio