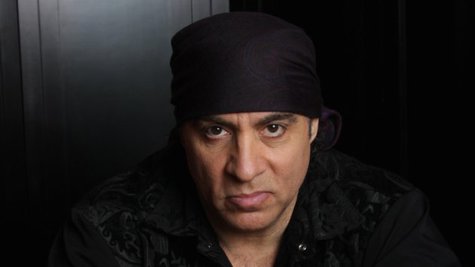 On Sunday, the world said its final goodbyes to Nelson Mandela , who was laid to rest in his ancestral home of Qunu, South Africa. E Street Band guitarist "Little Steven" Van Zandt , who organized the recording of the star-studded 1985 anti-apartheid song "Sun City" and fought for Mandela's release from prison during the political leader's long captivity, was lucky enough to meet South Africa's first black president on a couple of occasions.
Recalling his first meeting with Mandela, at a New York City fundraiser in 1990, Van Zandt tells ABC News Radio, "He was like meeting a historical religious figure or something more than a politician. He was amazing -- strength and warmth and kindness just emanating from him…I never met anybody like him before or since. Really just a remarkable human being."
The rocker remembers that Mandela thanked him for putting together the protest song, while commenting "how effective music was as a universal [form of] communication."
Van Zandt, of course, is an actor as well as a musician, and the second season of his Netflix series Lillyhammer has just premiered on the digital TV service. In the show, Steven stars as a mob boss named Frank "The Fixer" Tagliano who relocates to Lillehammer, Norway after joining a witness-protection program. Once settled in the Scandinavian country, the gangster resumes his life of crime while working as a nightclub owner under the alias of Johnny Henriksen.
Van Zandt tells ABC News Radio that the series is "evolving quite nicely," with this season finding his character getting more assimilated into his new environment.
While pointing out that "there'll always be that fish-out-of-water aspect to" Tagliano, Steven explains, "He's [become] more of the fabric of Norway, and we can have some different kind of fun with that." He adds, "This year he's a father [which leads to] other sort of new adventures."
Van Zandt reveals that for one of season two's storylines, "We switched the dynamic a little bit, and instead of him being the invader, we have him and his turf being invaded by an outside force, which is some English hooligans."
In addition to starring in Lillyhammer , Steven is heavily involved in the musical aspect of the show.
"I've been doing the music supervision for both seasons, which is putting the songs in, and I'd written the theme song," he explains, "but this year I got a chance to do the entire score, so that was a nice new thing for me."
Van Zandt says that tackling the Lillyhammer score was one of the most rewarding creative experiences he had during the past year.
"It's a completely different art form…than writing rock music," he notes. "You're responding to what the scene is and complementing that…There's a lot of creativity in it, in that you can actually color the emotions of a scene by the music you write."
All eight episodes of the second season of Lillyhammer are available now to Netflix subscribers. Meanwhile, Van Zandt will be hitting the road with Bruce Springsteen and the rest of the E Street Band for a late-winter tour that will take them to South Africa, Australia and New Zealand.
Copyright 2013 ABC News Radio