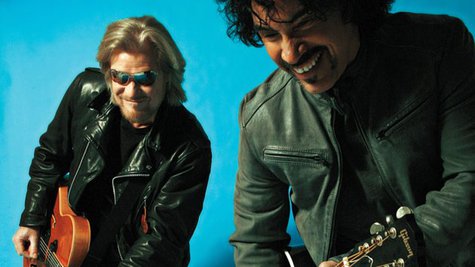 They've been eligible for years, but Hall & Oates finally got on the shortlist for induction into the Rock and Roll Hall of Fame this year...and wouldn't you know it, they made the final cut. They're among five acts who'll go into the Hall this April: the others are Linda Ronstadt, Peter Gabriel, Cat Stevens and KISS . And Daryl Hall says he's pleasantly surprised, because he never thought it would happen.
Speaking to Rolling Stone , Daryl says, "I didn't think it would happen as long as the people who were in power stayed in power. I've always been sort of on the other side of the fence with the old guard and the powers-that-be. So it was a bit of a surprise to me"
He adds, "This turn of events and the way things are changing is very pleasant. I think it's the right thing and I think it validates something that needs to have a reason to be serious."
Noting that in recent years, Hall & Oates' contribution to music has been reevaluated as they've been cited by younger artists as an influence, Daryl says, "That's a nice thing. All things change. Times move on and things get validated. The whole new generation of people are looking at me and John in a different way."
Daryl, who inducted both Smokey Robinson and The Temptations into the Rock Hall of Fame in past years, says standing at the podium as an inductee himself will probably feel a little different. "My emotions are mixed about it," he tells Rolling Stone . "I don't think I'm gonna prepare anything. I'm gonna let the moment wash over me and see how I react to it. I think that's probably the best thing I could do, just be as honest as possible.
In a statement to ABC News Radio, Daryl and John Oates added that they were "pleased" about their induction, and said, "Without the efforts of our fans, this would not have happened."
Meanwhile, Linda Ronstadt tells Rolling Stone that her health "is not great right now," and doubted that she'd be able to travel to the induction ceremony April 10 in Brooklyn, NY. Earlier this year, she announced that Parkinson's Disease had left her unable to sing. As for Cat Stevens, now known as Yusuf Islam , he tells the publication in a statement that his induction "will certainly bring happiness to a lot of my loyal fans and fulfillment to all those who have long-campaigned for it, not to mention how kinda embarrassingly good it makes me feel too."
Peter Gabriel was inducted into the Rock Hall of Fame in 2010 as a member of Genesis, but was unable to attend the induction that year. This year, he'll be there as he's inducted as a solo artist and tells Rolling Stone , "I'll probably perform, but if I do 'In Your Eyes' it'll take 10 minutes and that might be all the time I have."
Copyright 2013 ABC News Radio