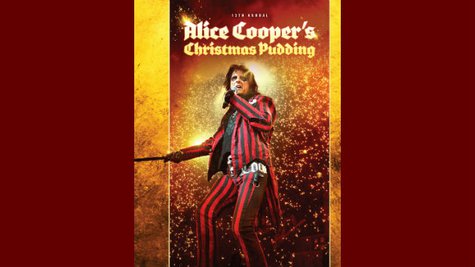 The 13th annual edition of Alice Cooper 's star-studded Christmas Pudding benefit show is set to take place this Saturday at Comerica Theatre in Phoenix. Joining the shock rocker at this year's extravaganza will be KISS , Joan Jett and the frontmen of a few of the biggest hair-metal bands of the 1980s -- Motley Crue 's Vince Neil , Ratt 's Stephen Pearcy , Cinderella 's Tom Kiefer and Winger 's Kip Winger . Hosting the bash will be one-time Seinfeld star and Family Feud host John O'Hurley .
Cooper tells ABC News Radio that the idea behind the event, which raises money for his Solid Rock foundation, is for the performers to loosen up and have fun.
"I treat it like a Christmas party," he says. "Have you ever been to a Christmas party where everybody gets up and does something? Except that this is all headliners."
The Rock and Roll Hall of Famer points out that fans attending the show might be treated to some unexpected collaborations.
"In the past I've had people like Pat Boone with Ted Nugent , Glen Campbell and Rob Zombie ," he notes. "I would try to get people that just didn't belong together on stage together…It just shows that you're breaking down barriers."
Alice reports that one aspect of this year's concert that will be different from previous shows is that the event will feature a house band that will back most of the guest singers. Cooper says the group, Hairball , is "the best cover band I've ever heard," adding that "these guys play as good as [the guest artists' own] bands."
All the proceeds from the concert go toward the Solid Rock charity Cooper co-founded in 1995, and its affiliated Rock Teen Center facility that opened last year in Phoenix. As Copper explained to ABC News Radio, "Solid Rock foundation [offers] free music lessons for kids -- you know, guitars, drums, bass, dance, whatever it is. All the stuff you can't get in school anymore. And, it's really to get kids off the street [and] give 'em a safe place to go."
That "safe place" is the Rock Teen Center, which is open to at-risk young people ages 13 to 19. Cooper points out that the motivation behind establishing the center is to convince teenagers going down a bad path that they have better options.
He explains, "I'm looking at this 15-year-old kid [selling drugs on the street], going, 'This kid's either gonna be in jail or dead in two or three years. How does he know he's not the best guitar player in Arizona? Why don't we give him a chance, at least give him an alternative, to come in and try it.'"

Meanwhile, Cooper and most of this year's other Christmas Pudding lineup also will be taking part in a similar benefit show on Thursday night in the Orleans Casino in Las Vegas. That event will aid the Brennan Rock & Roll Academy, a facility established by Dollar Loan Center founder Chuck Brennan that offers music-education programs to underprivileged young people in Sioux Falls, South Dakota.
Copyright 2013 ABC News Radio