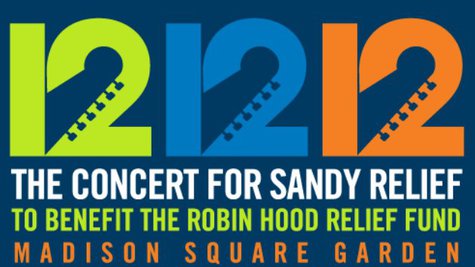 A new documentary about the historic, star-packed benefit concert for the victims of Hurricane Sandy held last December at New York City's Madison Square Garden will premiere next month at the Toronto International Film Festival. The film, titled 12.12.12. , will feature highlights from the 12.12.12 -- The Concert for Sandy Relief show, as well as behind-the-scenes footage that documents how the extravaganza came together.
The concert boasted an awe-inspiring lineup of the world's biggest music stars, including Paul McCartney , The Rolling Stones , The Who , Bruce Springsteen and the E Street Band , Eric Clapton , Billy Joel and Bon Jovi . The event also featured a number of surprise onstage collaborations, such as McCartney perfuming alongside the surviving members of Nirvana , Pink Floyd 's Roger Waters duetting with Pearl Jam 's Eddie Vedder and Coldplay 's Chris Martin teaming up with R.E.M. 's Michael Stipe . The show raised more than $50 million to aid those affected by the devastating storm.
12.12.12. will get its debut screening on September 8 at Toronto's Winter Garden Theatre, and will be shown in conjunction with the festival's Masters series. Movie mogul Harvey Weinstein , who co-produced the concert, will take part in a post-screening Q&A session.
Copyright 2013 ABC News Radio