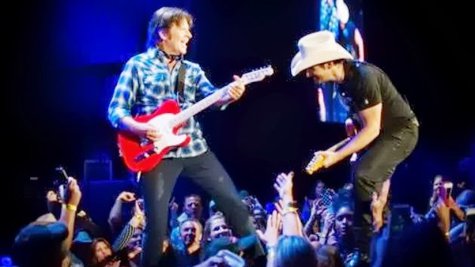 John Fogerty made a surprise appearance at country star Brad Paisley 's concert Thursday night in Mountain View, California. The two performed Fogerty's 1997 tune "Hot Rod Heart," a song they recorded as a duet for the ex- Creedence Clearwater Revival frontman's latest album, Wrote a Song for Everyone . It marked the first time that Brad and John played the song live together.
Fogerty and Paisley also teamed up for an encore that featured of John's hit "Centerfield," the CCR classic Proud Mary" and Brad's song "Alcohol."
Fogerty's next scheduled concert will take place in Milwaukee on Saturday, August 31, as part of Harley-Davidson's 110th Anniversary Celebrations. He'll also will sit in with jam band Widespread Panic on September 7 at the Lock'n (formerly Interlocken) Festival in Arrington, Virginia, and will join the Zac Brown Band at that group's Southern Ground Music & Food Festival on September 28 in Nashville. John will kick off his own headlining tour on October 10 in Los Angeles. Visit JohnFogerty.com to check out all of his upcoming dates.
Copyright 2013 ABC News Radio