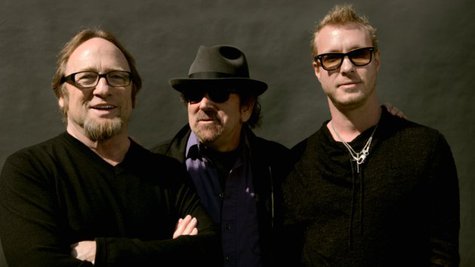 The Rides , the new blues-rock supergroup featuring Stephen Stills , will celebrate the arrival of their debut album, Can't Get Enough , with a special in-store appearance Tuesday in New York City. The band, which also features guitar whiz Kenny Wayne Shepherd and Electric Flag keyboardist Danny Goldberg , will be on hand to sign copies of the CD at a Best Buy store located on West 23rd St.
The store will begin selling copies of Can't Get Enough at 10 a.m. ET on Tuesday, and the first 300 people who purchase copies will get to meet the band members and have their CDs autographed by them. In addition, a pair of tickets to one of The Rides concerts at New York's famed Iridium club that week will be given away to a lucky fan who attends the signing session.
In related news, Best Buy is offering an exclusive CD/DVD version of Can't Get Enough that features bonus tracks and video content.
The Rides will kick off a North American tour in support of the album with a August 28-29 stand at the Iridium. The trek runs through a September 27 show in Reno, Nevada.
Copyright 2013 ABC News Radio