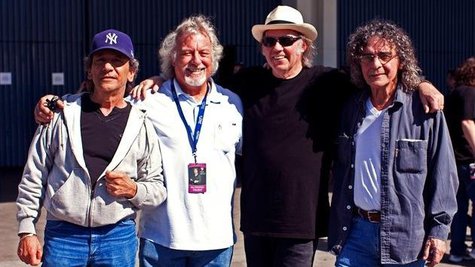 Neil Young & Crazy Horse 's recent cancellation of a series of European and North American concerts has left a lot of fans who bought tickets and made travel plans to attend the gigs peeved. The rockers pulled out of the shows because guitarist Frank "Poncho" Sampedro injured his hand, which needs time to heal, but many fans have complained that the band could still go on with a modified lineup.
Now, two founding Crazy Horse members have addressed the matter in separate messages posted online.
Bassist Billy Talbot writes on his official Facebook page , "I want to be sure each of you know that all four of us in the Horse are extremely disappointed in this turn of events. We've never had to cancel a show before."
He then notes, "After being together for 40 years, we know there's no way we can play without Poncho, or any one of us. The four of us have to be there for it to be [Neil Young & Crazy Horse]."
Billy finishes his note by declaring, "If there's any way that we could have played these shows, we would be there. This is an extremely hard twist of fate for us to accept."
Crazy Horse drummer Ralph Molina , meanwhile, echoes Talbot's sentiments in a post on the "Rusties" Facebook fan group.
"Dearest you all…not burned out, nothing going on, other than our guitar player cannot play for another month," he writes. "Crap happens….I can't see the stones without Keith…believe you me, we are all so terribly sorry…it wasn't an on purpose thing…we will play again…luv you all."
Young and Crazy Horse's next scheduled appearance will take place September 21 at the 2013 edition of Farm Aid in Saratoga Springs, New York.
Copyright 2013 ABC News Radio