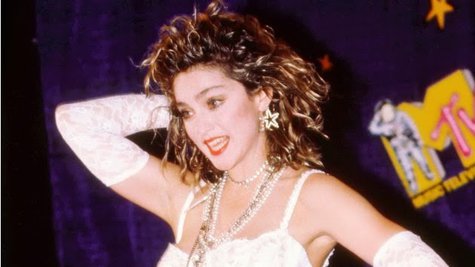 The MTV Video Music Awards this Sunday night will mark a milestone. Not only is the show being held in Brooklyn, NY for the very first time, but it'll be -- believe it or not -- the 30th installment of the show.
The very first MTV VMAs were held in 1984, at New York's Radio City Music Hall. The hosts were Dan Aykroyd and Bette Midler , and Madonna shocked the nation by singing "Like a Virgin" while writhing around on stage in a wedding dress, showing everyone her stockings and garters. The big winners included The Cars , David Bowie , Cyndi Lauper , Michael Jackson , ZZ Top, Van Halen and Herbie Hancock .
That first show, though, wasn't that great an experience for the original MTV VJs: Alan Hunter , Martha Quinn , JJ Jackson , Nina Blackwood and Mark Goodman . Despite being, at that point, household names, they found themselves largely marginalized that night, barely getting any camera time. Alan Hunter recalls that at first, when he and the rest of the VJ's heard that MTV was having an awards show at New York's Radio City Music Hall, they were thrilled.
"This was like, we're really there. We've arrived. We're at Radio City Music Hall and we just couldn't wait to see what our roles were going to be!" he tells ABC News Radio. According to Alan and Martha Quinn, they thought they'd be hosting the show -- and even when they found out that Akroyd and Midler were doing it, they still figured they'd have equal screen time and billing.
"Then we got our little scripts and we riffled through them and I had one bumper to commercial in the balcony," Alan recalls, laughing. "So our roles were a little diminished and we were a little deflated."
As for Martha, she says she can hardly recall that night because she inadvertently made a fool out of herself.
"I went out on stage before the broadcast to kind of warm up the crowd," she tells ABC News Radio, "And when I walked offstage I tripped and fell in front of everybody important in the music business, like Paul Stanley and David Lee Roth and Paul Shaffer was sitting there. And I tripped and fell and wiped out!" She adds, "I barely remember the rest of the night because I spent the whole time mortified."
Today, looking back, Martha says, "It was the beginning of the 'celebrification' of MTV." Adds Alan, "That's when we realized MTV was beyond our little home."
This year's MTV Video Music Awards, starring Lady Gaga , Katy Perry , Robin Thicke , Justin Timberlake , Miley Cyrus and more, airs live on Sunday night, starting at 9 p.m. ET.
Copyright 2013 ABC News Radio