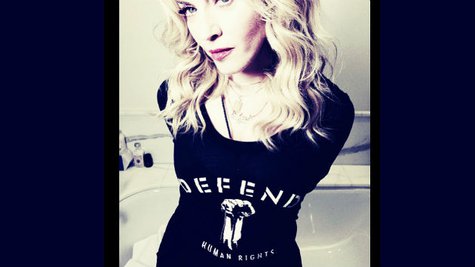 How much would you spend on a birthday present for Madonna ? If your budget's between $45 and $70, then we've got a great idea for you.
To mark her 55th birthday on Friday, Madonna announced that a new line of charity t-shirts are now available through her website . One of them is a $70 black tee with the words "Revolution of Love" printed on it. Madonna's been talking about starting a "revolution of love" for months now, as part of her various causes, and the shirt will benefit them. Proceeds go to her Ray of Light Foundation, which supports organizations around the world working to promote peace, equal rights and education for all.
"A revolution that has Love written all over it can do no wrong," reads the invitation to purchase.
The other tee, which costs $45, carries the logo "Defend Human Rights" and the image of a fist. Its proceeds will also go to the Ray of Light Foundation.
But if that's not enough to show your love for the Queen of Pop, Madonna has also asked her fans to donate money to Raising Malawi, another one of her charities, to support the work of the man she calls "one of my heroes," pediatric surgeon Dr. Eric Borgstein .
Meanwhile, Madonna got a birthday shout-out from one of the countless artists she's influenced. On Friday, Katy Perry tweeted , " HAPPY DAY OF BIRTH MADGE! Us popstars bow down to you, you've taught us so much!!!
Copyright 2013 ABC News Radio