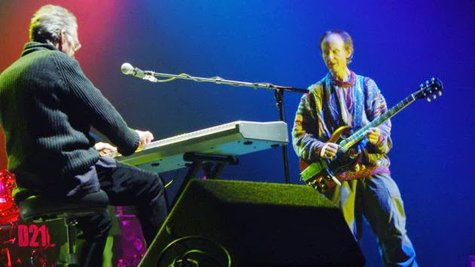 Doors guitarist Robby Krieger has shared an update about his and drummer John Densmore 's tentative plan to organize a tribute concert in honor of their band's late keyboard player, Ray Manzarek . Krieger tells Billboard.com that he and Densmore have discussed possibly holding the event "on Ray's birthday, February 12, and give him a nice send-off."
Manzarek died on May 20 at age 74 after a battle with bile-duct cancer. The 67-year-old guitarist says he still hasn't gotten over losing his friend and longtime collaborator.
"I knew him for so long," says Robby. "I still think about him every day, and I'm constantly doing interviews and stuff about him."
On a positive note, Krieger says Manzarek's passing has been a catalyst in helping patch up his strained relationship with Densmore.
"I think it sort of showed us that, hey, you can't hate somebody forever," he explains. "It's better to try to mend fences when you can, before it's too late."
Meanwhile, Krieger reports that he's about halfway done with a new solo album on which he's been working with the musicians who play in his current group, Robby Krieger's Jam Kitchen . He says he's recording the album in a studio that he's building in Glendale, California.
Robby tells Billboard.com that the new material is hard to describe, adding that "it's instrumental, mostly, but there's some vocals. It's different -- groundbreaking, in my opinion."
Krieger and his Jam Kitchen recently hit the road for a brief U.S. tour that's scheduled through a September 1 concert in Orlando, Florida.
Copyright 2013 ABC News Radio