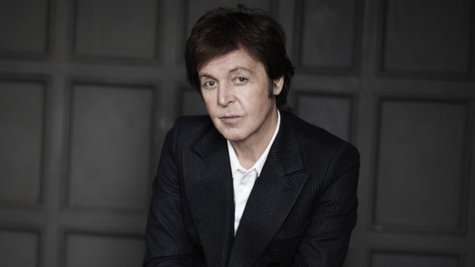 Ethan Johns , one of several producers with whom Paul McCartney has been recording in preparation for his forthcoming studio album, has revealed some new details about the project. In a new Rolling Stone interview, Johns says the ex- Beatles legend contacted him in early 2012 and told him he wanted to collaborate with him because he liked the production work he'd done with Kings of Leon .
Johns says his initial meeting with Sir Paul, which took place at London's AIR Studios, was "very low-key." He notes that they entered the studio with the idea of, "Let's just go and hang out for a few days, play some music, have a bit of fun and see what we come up with."
On the first day, the session yielded a ballad titled "Hosannah" that was cut in just four hours on analog equipment. Ethan notes that the song "had an incredible feel -- a really evocative piece of music, a very interesting lyric, and the performance was great." He says he then took the track and "put a bunch of psychedelic strangeness on it."
Johns says that one of the things that really impressed him about working with McCartney was his openness to experiment.
"I don't think he ever said 'No,' which is kind of the mark of who he is as an artist, really," Ethan maintains. "He's always up for trying something new."
Johns reports that he and McCartney continued their collaboration at London's famous Abbey Road Studios, adding that the experience "was revelatory for me, recording Paul in that space having listened to the sound of those Beatles records."
In all, Ethan worked with Sir Paul for about three-to-four weeks, during which time they recorded four songs. However, he isn't sure how many, if any, of the tunes will make the final cut for the as-yet-untitled album.
Other producers who have worked with McCartney on the project include Mark Ronson , Adele collaborator Paul Epworth and Beatles producer George Martin 's son, Giles . While no release date has been announced, the record is expected to arrive in the fall.
Copyright 2013 ABC News Radio