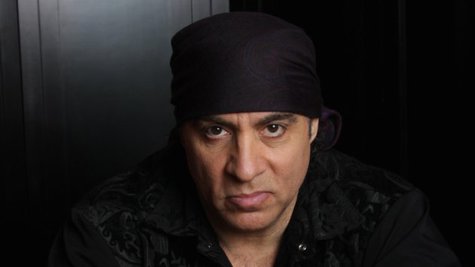 As the end of Bruce Springsteen and the E Street Band 's Wrecking Ball World Tour approaches, guitarist Steven Van Zandt admits that part of his attention is focused on a completely different music project. The 62-year-old rocker and actor has been working on composing the score for the second season of Lilyhammer , the hit Netflix series in which he stars as a mobster who joins the witness-protection program and moves to Norway.
"My main thing musically right now is finding the time to score Lilyhammer ," he told ABC News Radio recently. "That's all I want to do. If I can get that done, my 2013 will be perfectly satisfied, musically."
Springsteen only has four mid-September dates on his itinerary -- all taking place in South America -- and Van Zandt noted that "every day off [from the trek] I'll be working on this score."
Little Steven said the project is "quite an artistic challenge," since his goal is to blend traditional Norwegian music with various American styles and other international genres.
Van Zandt explained that the theme song he wrote for Lilyhammer reflects what he's trying to do with the score, and also is symbolic of what the series is about.
"[It] is half Norwegian folk music, with this particularly Norwegian instrument the Hardanger fiddle, and half New York jazz," he noted. "And that's how I see the show, so I want to do a whole score that kind of mixes those two things together."
Little Steven also serves as the music supervisor for Lilyhammer , overseeing the songs that are featured on the show's soundtrack. He told ABC News Radio that this task "is fun" and "much easier" than composing the score and "quite creative in its own way."
A premiere date for Lilyhammer 's second season hasn't been announced yet, although the series is expected to arrive before the end of the year. The debut season was the first original series to be made available on Netflix, and also became the highest-rated show in the history of Norway when it was broadcast in that country.
Copyright 2013 ABC News Radio