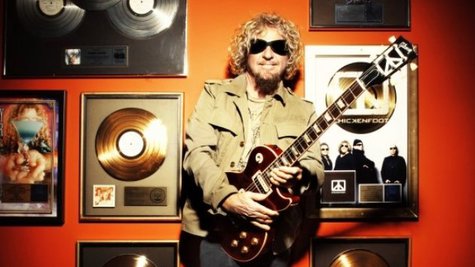 For some Van Halen fans, a collaboration between founding frontman David Lee Roth and former lead singer Sammy Hagar likely would be a dream come true. However, Hagar -- who mounted a co-headlining tour with Diamond Dave back in 2002 -- says he doesn't expect that ever to happen.
Hagar tells Rolling Stone that he'd probably sing with Roth if he asked him, but admits, "I don't think Dave wants to be in the same room with me, to be honest with you."
Adds the Red Rocker, "I don't know if I intimidate him or if I piss him off or if he just flat don't like me, or if he's afraid of me. I don't know what it is, but he and I do not get together."
Recalling his less-than-happy experience hitting the road with Roth, Hagar points out, "We tried. I gave it every shot I had on that tour. And I could care less. I mean, I'm totally over the guy."
Hagar's next studio album, Sammy Hagar & Friends , comes out on September 24. The release features collaborations with a variety of well-known rockers, including Kid Rock and Hagar 's Chickenfoot band mates Michael Anthony , Chad Smith and Joe Satriani .
The Red Rocker, who has plans to tour in support of the record, reports that fans can expect to hear quite a few Van Halen covers on the outing, including "When It's Love."
"I haven't done it in years, but I had to have that song back in the set," he explains. "And Van Halen doesn't play that stuff anymore, so it's my obligation. I do a 40-minute Van Halen tribute in the middle of my show."
Copyright 2013 ABC News Radio