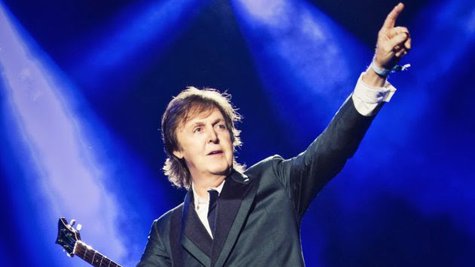 It looks like we won't have to wait much longer for Paul McCartney 's upcoming studio album. Showbiz411 reporter Roger Friedman says he got exclusive word from the Beatles star that he's planning to release the project before the end of 2013.
Friedman reports that he bumped into McCartney at a party in New York's ritzy Hamptons area, celebrating the music mogul's new book, and asked him if his album would be arriving after the New Year. The journalist says Sir Paul replied, "No, now. Before that."
McCartney has been working on the album with several producers, including Mark Ronson and Ethan Johns . The new collection reportedly will find the rock legend exploring a variety of styles. In April 2013 interview with Rolling Stone , Ronson revealed that McCartney had been showing interest in a number of modern dance-music genres.
McCartney's last full-length solo album of original material was 2007's Memory Almost Full -- that is, if you don't include his classical score to the 2011 ballet Ocean's Kingdom or the 2008 electronica project Electric Arguments that he released under the moniker The Fireman .
Copyright 2013 ABC News Radio