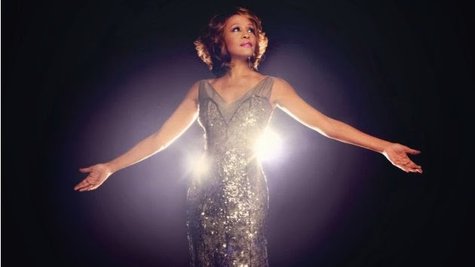 Today would have marked the 50th birthday of Whitney Houston , who passed away at the age of 48 at the The Beverly Hilton in Beverly Hills, California, on February 11, 2012. Her untimely demise coincided with the 2012 Grammy Awards and devastated fans all over the world, which inadvertently led to a ratings spike for the annual music show that honored her legacy with a heartfelt tribute.
If the legendary singer was still with us, the diva would surely be proud of the records she's set that have yet to be broken, according to Yahoo's Chart Watch .
Houston's most noteworthy accomplishments include the fact that she is the only female artist to release three albums that each spent 10 or more weeks at the coveted #1 position on the Billboard albums chart. The only other artists to accomplish this feat are The Beatles and Elvis Presley -- each of whom has four -- and the Kingston Trio .
Houston's albums have enjoyed a combined total of 46 weeks atop the Billboard 200, which is more than any other female artist since 1955. Her first studio effort album, Whitney Houston , stayed at #1 for 14 weeks in 1986. She followed that success with her sophomore album, Whitney , which held the top spot for 11 weeks in 1987. The Bodyguard soundtrack stayed on top for 20 weeks in 1992-1993. Houston's final studio album, I Look to You , spent one week on top in 2009.
The Bodyguard has sold 12,069,000 copies, more than any other soundtrack since 1991, according to Nielsen SoundScan.
In April 1988, Houston became the first artist -- male, female or group -- to reach #1 on the Hot 100 singles chart with seven consecutive hits -- the old record of six had been held jointly by The Beatles and The Bee Gees .
In February 1993, "I Will Always Love You" became the first single in the "rock era," which dates to 1955, to log 14 weeks at #1.
In related news, Houston's daughter, Bobbi Kistina , recently tweeted on Wednesday, "I'll Miss YOU 4 the Rest of The Life i Have•I know ur always with us•&TRUSTI'll4ever cherish memories we've had•The18yrs God blessed me2have with YOU."
Copyright 2013 ABC News Radio