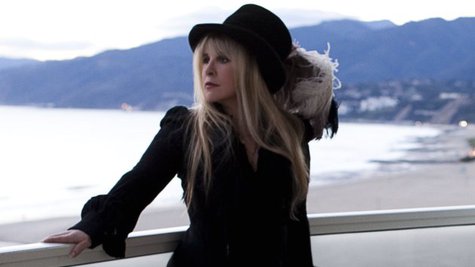 Stevie Nicks' much-anticipated episode of CMT Crossroads -- the series that matches up pop and rock acts with country artists -- finally has an airdate. The show, featuring the Fleetwood Mac singer performing with Lady Antebellum , will premiere next month.
During the concert, the two acts trade vocals on Stevie's solo and Fleetwood Mac classics "Edge of Seventeen," "Landslide," "Gold Dust Woman" and "Rhiannon," as well as on Lady Antebellum hits like "Need You Now." There's also a reworking of Nicks' memorable duet with Tom Petty , "Stop Draggin' My Heart Around."
According to RollingStone.com , during the taping, Stevie revealed that she had spent three months listening to the country trio's music while preparing for the concert. "These songs are amazing," she declared. "These songs make you feel like you're in love." And before the "Edge of Seventeen" performance, Nicks explained that she usually doesn't like to sing that song with anyone else because of how personal it is to her. However, she added, "I'm proud to share it with Lady Antebellum, because they're good enough to do it."
Look for CMT Crossroads: Stevie Nicks and Lady Antebellum to premiere the night of September 13 at 10 p.m. ET.
Copyright 2013 ABC News Radio