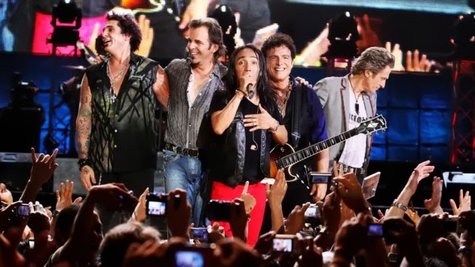 The recent Journey documentary Don't Stop Believin': Everyman's Journey will premiere on PBS next month as the debut installment of the network's PBS Indies Showcase series, which focuses on the work of independent filmmakers. The movie tells the inspirational story of the band's current frontman, Arnel Pineda , who was discovered by Journey guitarist Neal Schon via performance videos posted on YouTube.
Don't Stop Believin' , which was written and directed by Ramona Diaz , focuses on the Filipino-born Pineda's personal struggles and his efforts to be accepted by Journey and the group's fans.
At a Television Critics Association panel held Tuesday in Beverly Hills, California, most of the band members were on hand to discuss the documentary and reflect on Pineda's contributions to the group.
Asked whether he initially worried that Pineda's language barrier might cause problems with him working with the band, Schon insisted said that his vocal ability helped calm any concerns he might've had.
"When I listened to his voice [on YouTube], I thought that he had an instrument that was impeccable and unbelievable," the guitarist declared. "And so I said, 'If he doesn't speak perfect English, we'll teach him, and it's fine.'"
Schon also pointed out that Arnel proved right off the bat that he could handle the pressure of being compared to Journey's former frontman Steve Perry . Pineda's first show with the band took place in Chile and was televised live, and Neil said he could tell that a lot of people at the concert "were going, 'Is this guy going to bring it?' And he certainly did." Schon adds, "After that gig I think we all knew that there was not going to be a problem."
Keyboardist Jonathan Cain , meanwhile, credits Pineda with "revitaliz[ing] the interest in the band," adding that he "brings a special brand of lead singer entertainment. He has his own style that he's developed."
Cain also noted that Pineda has helped create a whole new [Filipino] fan base" for Journey. "They're showing up at our shows, buying our CDs and DVDs," he said. "And so it's really been fantastic."
As for Pineda himself, he maintained that "never even had a slight feeling of intimidation" in taking on the lead singer role in Journey. With regard to being compared to Perry, Arnel insisted, "I'm not even trying to compete with Mr. Perry, here. I'm just trying to help out here. And I'm just so grateful that these guys are believing in me."
The singer also explained that the band's positive attitude toward moving forward with him out front helped remove any reservations he might have had about stepping into Perry's shoes. "They want to carry on," he declared. "They want to take flight and fly with the fans. You know, continue the legacy…That's why it didn't affect me at all."
The premiere screening of Don't Stop Believin': Everyman's Journey is scheduled to air Monday, September 30, at 10 p.m. ET; check your local listings. You can check out a preview of the program at Video.PBS.org , and find out more more about the film at EverymansJourney.com .
Copyright 2013 ABC News Radio