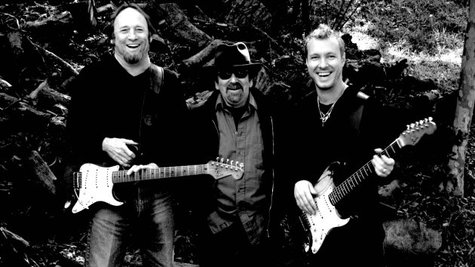 While Stephen Stills ' new blues-rock supergroup, The Rides , has yet to release its debut album, the band apparently is already planning to make a sophomore record. Due out on August 27, Can't Get Enough was recorded quickly and features several cover songs, but Stills tells Billboard that he expects The Rides to "have a different method [the next] time."
The singer/guitarist explains that for the follow-up, he and band mates Kenny Wayne Shepherd and Electric Flag keyboardist Barry Goldberg are "going to keep writing until we've got enough for a whole album of original material."
He adds that the group had some songs in the works during the recording of Can't Get Enough "that we didn't quite have time to polish, but the writing team of me and Barry and Kenny just seemed to fall together."
Shepherd, meanwhile, tells Billboard that The Rides may be ready to hit the studio to work on a new album before the end of the year. He reveals that everyone in the group already has been putting together some new material, while noting that Stephen has a half-finished song that "sounds like vintage Crosby, Stills & Nash ." Shepherd stresses, however, that he thinks the next Rides album "will pretty much stay firmly routed in the blues because that's what this band ultimately is."
Stills has spent a good part of 2013 touring with CSN, and tells Billboard that he's looking forward to getting the chance to let loose more when The Rides hit the road.
"I love playing with [ Graham Nash and David Crosby ], but their new songs are real jazzy and hard to learn and have a lot of stump-the-band Crosby tricks in them," Stephen admits. "The Rides' [tunes] are pretty straightforward, so I can't wait to get into rehearsing. It's going to be a real shot in the arm."
The Rides' tour kicks off with an August 28-29 stand at the famed New York City jazz club The Iridium, and is mapped out through a September 27 show in Reno, Nevada. Stills will then join CSN for an October tour of the United Kingdom.
Copyright 2013 ABC News Radio