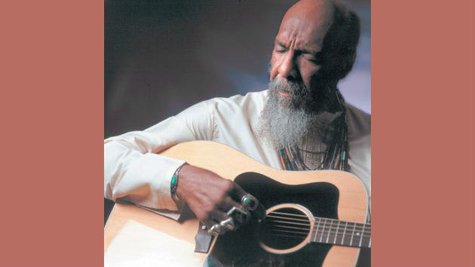 New details have been revealed about the Richie Havens memorial celebration during which the late folk singer's ashes will be scattered on the grounds of the Bethel Woods Center for the Arts in Bethel, New York, the site of the 1969 Woodstock festival.
The event, scheduled to take place at 3 p.m. ET on Sunday, August 18, will feature spoken word tributes from Haven's friends Danny Glover and Louis Gossett Jr. , as well as from Woodstock organizers Michael Lang and Joel Rosenman . In addition, a variety of musicians will perform in honor of Richie, including John Sebastian , Jose Feliciano , John Hammond and Havens' touring band members Stephanie Winters and Walter Parks .
Following the spoken and musical homages, Havens' ashes, along with flower petals, will be scattered from the air around the very field where the singer/songwriter gave his famous performance to kick off Woodstock in August of 1969.
Admission to the tribute is free. Various activities will be held on the center's grounds throughout the day, including a drum circle at 12:30 p.m. ET led by one-time Jimi Hendrix percussionist Juma Sultan .
A Havens family spokesperson said in a statement about the free event, "There is really no question it's what Richie would've wanted. His family understands and respects that he is very much beloved and missed by many."
Visit RichieHavens.com to find out more details about the tribute, dubbed Back to the Garden: A Day of Song and Remembrance Honoring Richie Havens.
Havens died on April 22 after suffering a heart attack. He was 72.
Copyright 2013 ABC News Radio