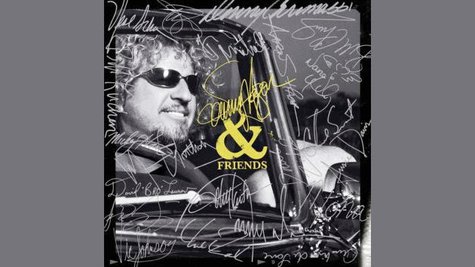 Sammy Hagar fans can get a preview of the Red Rocker's upcoming duets album, aptly titled Sammy Hagar & Friends , thanks to RollingStone.com . The website has posted the official video for the album's rocking lead single, "Knockdown Dragout," which features guest vocals by Kid Rock and guitar work by Hagar's Chickenfoot band mate Joe Satriani .
The black-and-white clip includes close-up footage of Sammy lip-synching to the tune, intercut with video of Hagar and Kid Rock performing on stage, some high-flying pro wrestling action and boxers throwing jabs at the camera and at punching bags. Satriani also makes any appearance to deliver a blistering solo.
Meanwhile, Hagar also recently posted a new video on his official YouTube channel in which he talks about the star-studded recording project, which will be released on September 24. In the clip, apparently filmed by the beach in Cabo San Lucas, Mexico, Sammy says, "Everybody that was available I got in and recorded with and just wrote songs and kicked songs around, did some cover tunes…Anyway, I'm really excited."
He adds, "I can't wait for you to get your hands on this CD, I can't wait for you to listen to this music and I can't wait to get on the road and play it for you."
As previously reported, in addition to Kid Rock and Satriani, Sammy Hagar & Friends will feature contributions from Heart 's Nancy Wilson ; Journey 's Neal Schon ; ex- Van Halen bassist Michael Anthony ; Red Hot Chili Peppers drummer Chad Smith ; Grateful Dead percussionist Mickey Hart ; folk-blues singer Taj Mahal ; country stars Toby Keith and Ronnie Dunn ; Hagar's longtime backing group The Wabos ; the Red Rocker's son, Aaron Hagar ; and Bill Church and Denny Carmassi -- the fellow surviving original members of Sammy's old band Montrose .
To find out more details about the album, visit SammyandFriends.com .
Copyright 2013 ABC News Radio