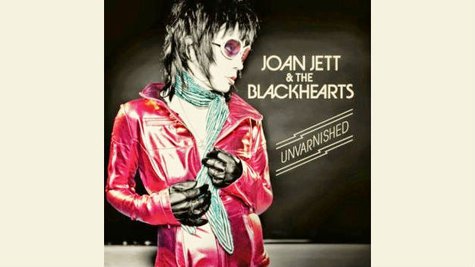 On October 1, Joan Jett and her longtime backing group, The Blackhearts , will release a new studio effort titled Unvarnished , their first full-length album of original songs since 2006's Sinner . The new album will be available in a standard edition featuring 10 songs and a deluxe version that offers four bonus tracks.
Unvarnished is said to be the most autobiographical set of tunes Jett has recorded, and finds the punk-rock pioneer reflecting on the death of her parents, the courage of the people affected by Hurricane Sandy and the modern trend of sharing too much personal information. The singer/guitarist worked with her longtime collaborator and manager, Kenny Laguna , on the project as well as with such guest stars as Foo Fighters frontman Dave Grohl and Against Me 's Laura Jane Grace .
"It's a real band album," says Jett in a statement. "Everybody was involved."
Fans will be able to pre-order the lead single from Unvarnished , "Any Weather," this Tuesday via iTunes. Jett and the Blackhearts will give the song its live debut two nights later, on August 8, on ABC's Jimmy Kimmel Live! , which airs at 11:35 p.m. ET/10:35 p.m. CT.
Meanwhile, Joan currently is being saluted at the Sunset Strip Music Festival in West Hollywood, California, which runs through this Saturday. Jett was named the special honoree of this year's edition of the fest, and Thursday was declared "Joan Jett Day" by the city in recognition of her musical contributions.
Here is the complete track list of Unvarnished ; * - song only appears on deluxe version:
"Any Weather" (606 Version)
"TMI"
"Soulmates to Strangers"
"Make It Back"
"Hard to Grow Up"
"Fragile"
"Reality Mentality"
"Bad as We Can Be"
"Different"
*"I Know What I Know"
*"Seriously"
*"Different" (Demo Version)
*"Any Weather" (Blackhearts)
"Everybody Needs a Hero"
Copyright 2013 ABC News Radio