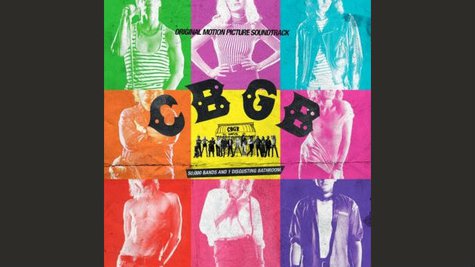 Songs from a wide variety of popular and influential artists who emerged during or leading up to the punk-rock era are featured on the soundtrack to the upcoming film CBGB , which tells the story of the legendary New York City rock club. According to a post on Omnivore Recordings' Facebook page, CBGB: Original Motion Picture Soundtrack will be released on October 8, and will include tunes by Blondie , The Police , Talking Heads , Joey Ramone , The Velvet Underground and The New York Dolls .
The 20-track album will be available as a standard CD and a two-LP vinyl set, with initial pressings of the latter featuring translucent-pink discs. An expanded edition of the soundtrack also will be sold as a digital download.
Among the songs on the album is a new version of Blondie's 1979 tune "Sunday Girl." The album closes with a recording of late CBGB owner Hilly Kristal singing "Birds and the Bees."
The CBGB movie will premiere during the second annual CBGB Music & Film Festival, which runs from October 9 through October 13 in New York City. The flick's cast includes Alan Rickman as Kristal, Malin Ackerman as Blondie's Debbie Harry , Joel David Moore as Joey Ramone, Mickey Sumner ( Sting 's daughter) as Patti Smith , Foo Fighters drummer Taylor Hawkins as Iggy Pop , Rupert Grint as Dead Boys guitarist Cheetah Chrome , and Kyle Gallner as Lou Reed .
Here is the track list for the CBGB soundtrack:
"Life During Wartime" -- Talking Heads
"Kick Out the Jams (Uncensored Version)" -- MC5
"Chatterbox" -- New York Dolls
"Careful" -- Television
"Blank Generation" -- Richard Hell & the Voidoids
"Slow Death" -- Flamin' Groovies
"I Can't Stand It" -- The Velvet Underground
"Out of Control" -- Wayne County & the Electric Chairs
"Psychotic Reaction" -- The Count Five
"All for the Love of Rock 'n' Roll (Live)" -- Tuff Darts
"All by Myself" -- Johnny Thunders & the Heartbreakers
"California Sun (Original Demo)" -- The Dictators
"Caught with the Meat in Your Mouth" -- Dead Boys
"I Got Knocked Down (But I'll Get Up)" -- Joey Ramone
"Get Outta My Way" -- The Laughing Dogs
"Sunday Girl (2013 Version)" -- Blondie
"I Wanna Be Your Dog" -- The Stooges
"Sonic Reducer" -- Dead Boys
"Roxanne" -- The Police
"Birds and the Bees" -- Hilly Kristal
Copyright 2013 ABC News Radio