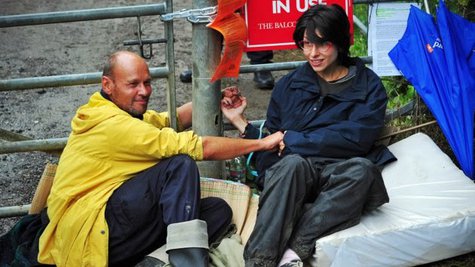 The 30-year-old daughter of The Kinks ' Ray Davies and The Pretenders ' Chrissie Hynde apparently has quite a bit in common with her famous mom, at least when it comes to the passion she shows for the causes she supports.
U.K. newspaper The Independent reports that Natalie Hynde was arrested on Tuesday at a protest in Balcombe, England, after she and her boyfriend and fellow activist super-glued their hands together at a site where an energy company called Cuadrilla is planning to explore for oil and gas. Officers separated the couple's hands and then took them away in separate police vans.
Hynde was among a group a of protestors who have spent about a week in Balcombe demonstrating in hopes that they can deter Cuadrilla from using the hydraulic fracturing process, also known as fracking, in the area. Some believe fracking will cause contamination to the water supply and release harmful chemicals into the environment. However, a Cuadrilla rep claims that the company's exploration plans include only drilling, and that they don't have the proper permissions to conduct fracking on the site.
This marks the second time Natalie had a run-in with the law in the last few months. In February, she was arrested after she bolted herself to a tree while protesting a plan to build a roadway through an area of old-growth woodland in Sussex, England.
Chrissie Hynde has long been a vocal animal-rights activist and supporter of People for the Ethical Treatment of Animals (PETA). She herself has been arrested numerous times, including a 2000 incident during which she destroyed leather items at a Gap store in New York City; and in 2004, when she smeared fake blood on the windows of a KFC restaurant in France.
Copyright 2013 ABC News Radio