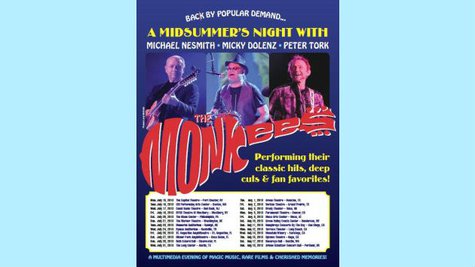 Here they come again! After mounting a successful reunion tour last fall, the three surviving Monkees -- Micky Dolenz , Peter Tork and Michael Nesmith -- will team up for a new series of concerts this summer. The trek, dubbed A Midsummer's Night with The Monkees, will run from a July 15 stop in Port Chester, New York, through an August 18 show in Portland, Oregon. Along the way, the pop-rock legends will visit such major cities as Boston, Philadelphia, Washington, D.C., Nashville, Houston, Denver, San Diego and Seattle.
Dolenz tells Rolling Stone that the positive response to the 2012 shows convinced the group to get back on the road. "The reaction to the last tour was euphoric," he explains. "It was pretty apparent there was a demand for another one."
The new trek will feature The Monkees' classic hits, other memorable tunes from the group's first five albums, and gems both from the band's famed TV series and 1968 cult film, Head . Like last year's tour, this outing will boast a set in which just Dolenz, Tork and Nesmith play selections from The Monkees' 1967 release, Headquarters . The shows also offer a multimedia display including rare film footage and photos.
While the 2012 tour featured a strong focus on late Monkees singer Davy Jones , who died in February of that year, Dolenz tells Rolling Stone that the group "probably won't lean so heavily on the David situation" this time around. He adds, "I think we have to move on. Everybody has to move on. He'll always be remembered and acknowledged, but possibly not as much as on that particular tour."
Looking ahead past the upcoming U.S. trek, Dolenz says The Monkees could very well bring their all over the world. "We are thinking about taking it everywhere," he admits, mentioning that the areas under consideration include Europe, South America, Eurasia, Australia, New Zealand and Japan.
Dolenz also tells Rolling Stone that he'd love for the band to record a new studio album, although he reports that the band mates "haven't had any discussions about that beyond, 'Wouldn't it be cool to have a new one?'"
Tickets for the new Monkees concerts go on sale to the general public this Friday. Here are all of the group's confirmed dates:
7/15 -- Port Chester, NY, The Capitol Theatre
7/16 -- Boston, MA, Citi Performing Arts Center
7/17 -- Red Bank, NJ, Count Basie Theatre
7/19 -- Westbury, NY, NYCB Theatre at Westbury
7/20 -- Philadelphia, PA, The Mann Center
7/21 -- Washington, D.C., The Warner Theatre
7/23 -- Raleigh, NC, Memorial Auditorium
7/24 -- Nashville, TN, Ryman Auditorium
7/26 -- St. Augustine, FL, St. Augustine Amphitheatre
7/27 -- Boca Raton, FL, Mizner Park Amphitheatre
7/28 -- Clearwater, FL, Ruth Eckerd Hall
7/31 -- Austin, TX, The Long Center
8/1 -- Houston, TX, Arena Theatre
8/2 -- Grand Prairie, TX, Verizon Theatre
8/3 -- Tulsa, OK, Brady Theater
8/5 -- Denver, CO, Paramount Theatre
8/9 -- Mesa, AZ, Mesa Arts Center
8/10 -- Henderson, NV, Green Valley Events Center
8/11 -- San Diego, CA, Humphreys
8/12 -- Long Beach, CA, Terrace Theatre
8/14 -- Saratoga, CA, Mountain Winery
8/15 -- Napa, CA, Uptown Theatre
8/17 -- Seattle, WA, Benaroya Hall
8/18 -- Portland, OR, Arlene Schnitzer Concert Hall
Copyright 2013 ABC News Radio