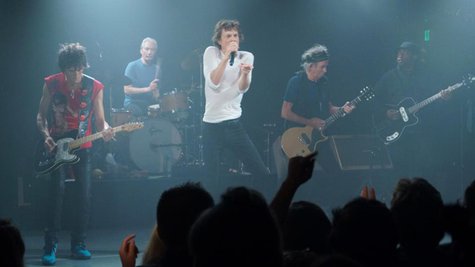 The Rolling Stones launch their 50 and Counting tour May 3 in Los Angeles, but they surprised fans there this weekend with a performance at a small club in the city.
The band tweeted Saturday that they would stage a concert that night at the EchoPlex nightclub in the Echo Park neighborhood of Los Angeles. Several hundred tickets were offered for just 20 dollars apiece, a fraction of what a ticket to a Stones concert usually costs.
The Stones played a 90-minute set that included a cameo from former member Mick Taylor , according to Rolling Stone . Mick also made appearances during the group's string of concerts celebrating their 50th anniversary last fall.
Celebs in attendance reportedly included Johnny Depp , Owen Wilson and pop star Ke$ha .
Here's the set list from Saturday's show, according to Rolling Stone :

"You Got Me Rocking"
"Respectable"
"She's So Cold"
"Live with Me"
"Street Fighting Man"
"That's How Strong My Love Is"
"Little Queenie"
"Just My Imagination"
"Miss You"
"Love in Vain" (with Mick Taylor)
"Midnight Rambler" (with Mick Taylor)
"Start Me Up"

Encore:
"Brown Sugar"
"Jumpin' Jack Flash"
Copyright 2013 ABC News Radio