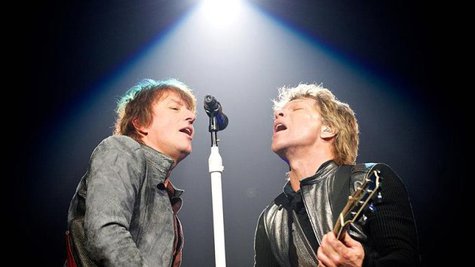 Ever since Richie Sambora mysteriously departed the Bon Jovi tour, there has been plenty of speculation as to what caused him to leave. While Richie has tweeted that he's fine and hopes to see all the fans soon, Jon Bon Jovi has shot down rumors that a power struggle between them is what caused the guitarist to leave. Jon has now attempted to set the record straight -- kinda -- on The Ellen DeGeneres Show Tuesday.
Asked by Ellen why the band has been together so long, Jon explained, "We like each other...we all had to have a lot of give and take. You had to love each other, you had to go through some ups and downs but in the big picture, you had to really like each other to go to work." Ellen replied, "It begs the question...Richie is not here so I would like to give you an opportunity to address that."
An uncomfortable Jon said, "Okaaaay," and then added, "All I can say, honest to God, is that it's a personal matter but we love him very much and he's absolutely still a member of the band." When Ellen responded, "He's still your guitarist?" Jon said, firmly, "Absolutely," as the audience applauded.
Richie has been replaced -- temporarily, it seems -- on the Bon Jovi tour by guitarist Phil X . The band plays Arizona Tuesday night.
Copyright 2013 ABC News Radio