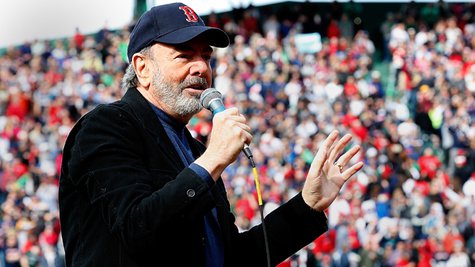 When the Boston Red Sox on Saturday afternoon played their first home game since last week's bombings in the city, Neil Diamond was on hand to sing his Fenway Park staple, "Sweet Caroline."
For more than a decade, the Red Sox have played Neil's classic during the middle of the eighth inning of each home game. It always elicits a massive sing-along from the crowd.
On what was an emotional day for the team, the fans, and the entire city of Boston, Neil made an appearance at Fenway Park Saturday to lead the crowd in singing "Sweet Caroline." He told the crowd, "What an honor it is for me to be here today. I bring love from the whole country."
The performance had not been planned. According to MLB.com , Neil flew from Los Angeles to Boston specifically for the game, calling the Red Sox about a half-hour before game time and volunteering his services.
The Red Sox went on to defeat the Kansas City Royals, 4-3.
Several teams last week, including the Red Sox's chief division rival, the New York Yankees, played "Sweet Caroline" at their ballparks in tribute to Boston.
Copyright 2013 ABC News Radio