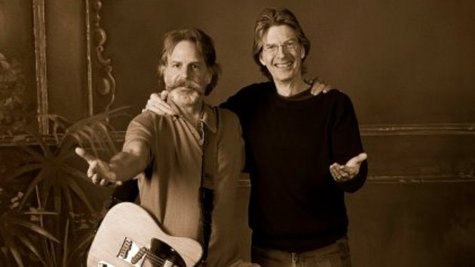 Furthur , the group led by founding Grateful Dead guitarist Bob Weir and bassist Phil Lesh , will be one of the headlining acts at the 2013 All Good Music Festival , which is scheduled for July 18-21 in Thornville, Ohio. The jam band is slated to hit the stage on Saturday, July 20. Dozens of other groups also are part of this year's All Good fest lineup, including Primus , Grace Potter and the Nocturnals and the North Mississippi Allstars .
Furthur's appearance at the festival will wrap up a series of July performances the band has lined up mostly in the Northeastern U.S. The group also has scheduled an early-fall stateside tour leg that will see them visit a variety of cities out West.
Meanwhile, the band began a historic nine-show run last night at the Capitol Theatre in Port Chester, New York. After those gigs, Furthur will play an April 27 concert at Boardwalk Hall in Atlantic City, New Jersey, and will make a May 9 appearance at the BottleRock Napa Valley Festival in Napa, California.
Here are all of the group's scheduled upcoming performances, according to Furthur.net :
4/16 -- Port Chester, NY, The Capitol Theatre
4/17 -- Port Chester, NY, The Capitol Theatre
4/19 -- Port Chester, NY, The Capitol Theatre
4/20 -- Port Chester, NY, The Capitol Theatre
4/21 -- Port Chester, NY, The Capitol Theatre
4/23 -- Port Chester, NY, The Capitol Theatre
4/24 -- Port Chester, NY, The Capitol Theatre
4/25 -- Port Chester, NY, The Capitol Theatre
4/27 -- Atlantic City, NJ, Boardwalk Hall
5/9 -- Napa, CA, BottleRock Napa Valley Festival
7/11 -- Brooklyn, NY, Barclays Center
7/12 -- Holmdel, NJ, PNC Bank Arts Center
7/14 -- Cooperstown, NY, Doubleday Field
7/16 -- Gilford, NH, Meadow Brook
7/17 -- Boston, MA, Bank of America Pavilion
7/18 -- Boston, MA, Bank of America Pavilion
7/19 -- Canandaigua, NY, The Constellation Brands-Marvin Sands Performing Arts Center
7/20 -- Thornville, OH, All Good Festival - Legend Valley
9/19 -- Morrison, CO, Red Rocks Amphitheatre
9/20 -- Morrison, CO, Red Rocks Amphitheatre
9/21 -- Morrison, CO, Red Rocks Amphitheatre
9/22 -- Morrison, CO, Red Rocks Amphitheatre
9/24 -- Redmond, WA, Marymoor Amphitheater
9/25 -- Eugene, OR, Cuthbert Amphitheater
9/27 -- Berkeley, CA, Greek Theatre
9/28 -- Berkeley, CA, Greek Theatre
9/29 -- Berkeley, CA, Greek Theatre
10/1 -- Las Vegas, NV, The Pearl at the Palms
10/2 -- Las Vegas, NV, The Pearl at the Palms
10/4 -- Los Angeles, CA, The Greek Theatre
10/5 -- Los Angeles, CA, The Greek Theatre
10/6 -- Los Angeles, CA, The Greek Theatre
Copyright 2013 ABC News Radio