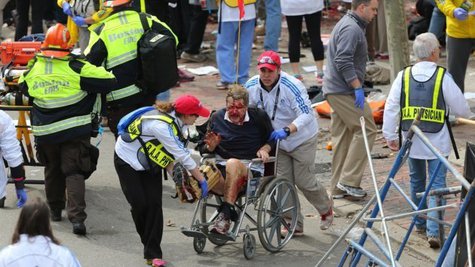 Following the tragic bombings at the Boston Marathon on Monday, a variety of famous musicians have taken to the Internet to send out sympathetic messages and express their feelings about the bombing, which has left three people dead and more than 170 wounded.
Among the stars offering their sympathies to the victims are Joe Perry and Joey Kramer of Aerosmith , arguably the most famous rock band ever to emerge from Boston.
In a message posted on his Twitter account, Perry writes , "Sending out prayers to everyone in Boston and our Blue Army. Deepest sympathies to those who lost family members n those with injuries."
As for Kramer, he tweeted , "Our thoughts & prayers are with Boston. My heart is truly saddened."
The Who 's Roger Daltrey offered up his own message of condolence, writing, "I send my love and healing thoughts to the people of Boston."
Here are some of the many other online responses to the bombing from music celebs:
Three Dog Night : "Our hearts and prayers go out to the victims and families of those killed and injured in the bombing at the Boston Marathon. #Senseless."
America : "Our thoughts and prayers go out to everyone in Boston."

Toto gutarist Steve Lukather : "My God what has gone wrong with the world? Have humans EVER gained from Violence of ANY kind EVER? God Bless those in Boston. Peace please!"
Toto singer/keyboardist David Paich : "Our hearts and prayers go out to the people of Boston."
Asia : "Our thoughts are with all affected by the explosions in Boston last night."
Foghat : "Our hearts and our thoughts are with our Boston friends and their families who have been injured or lost, and with everyone here in this fantastic country of ours. No words to describe how we feel...just hope for an end to all of this craziness."
Ted Nugent : "Prayers&Godspeed to victims in Boston & hope the guilty are caught & severely punished."
Copyright 2013 ABC News Radio