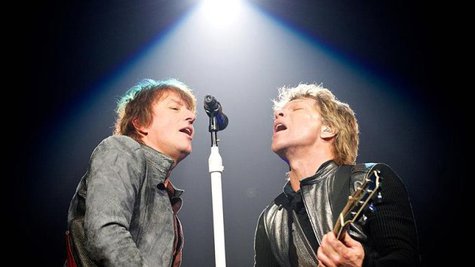 Ever since Richie Sambora exited the Bon Jovi tour due to what was described as "personal issues," there has been much speculation as to what really happened between the guitarist and his band. But now, Jon Bon Jovi is saying most of what you've heard isn't true.
Speaking to the Austin American-Statesman, Jon says he "thinks Richie's doing all right," but adds that he "hasn't spoken" to the guitarist since he didn't turn up for the band's recent show in Calgary, Canada. "We were surprised," Jon reveals. "It was 3:30 on show day on Tuesday and we got a phone call that he wouldn't be there. It's a personal matter."
"Don't believe what you read on TMZ because it's the furthest thing from the truth," the singer adds. He may have been referring to a report by the website claiming that Richie bailed on the tour because he was tired of Jon treating him badly, and not paying him enough.
What Jon says, however, appears to be true. Richie tweeted , "Thank you everyone for your concern. I'm well, but had to stay in LA to take care of a personal matter. Love you all and see you very soon."
Sambora's comment appears to indicate that he plans to re-join the tour at some point. For now, he's been replaced by guitarist Phil X .
Copyright 2013 ABC News Radio