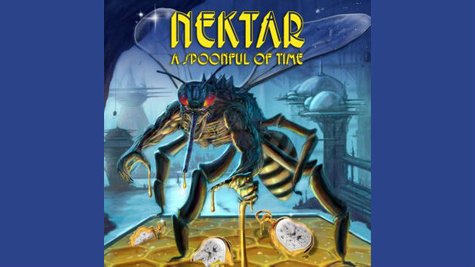 Veteran U.K. prog-rock group Nektar has joined forces with an array of well-known artists from other bands to record a collection of classic-rock covers titled A Spoonful of Time .
The album, which will be released in the U.S. on November 27, features contributions from Yes and Asia members Steve Howe and Geoffrey Downes , ex- Toto singer Bobby Kimball , Cream drummer Ginger Baker and Zombies keyboardist Rod Argent , to name a few. Among the famous songs featured on the 14-track collection are the Steve Miller Band 's "Fly Like an Eagle," The Doors ' "Riders on the Storm," Pink Floyd 's "Wish You Were Here," Neil Young 's "Old Man" and Toto's "Africa."
A Spoonful of Time was produced by Yes alumnus Billy Sherwood , who also played bass on many of the tunes.
"I really enjoyed working with Nektar on their new record," says Sherwood. "[Frontman] Roye [ Albrighton ] is very creative and inspiring to be around…I felt like it was working with friends, making music, as it should be."
Sherwood also produced and played bass on Nektar's upcoming studio album, Time Machine . Meanwhile, Nektar next confirmed appearance will be on Yes' inaugural Cruise to the Edge event, which will take place in March.
Here is the complete track list of A Spoonful of Time , along with each song's guest artists:
"Sirius" (Alan Parsons Project) -- with Michael Pinnella (Symphony X)
"Spirit of the Radio" (Rush) -- with Mark Kelly (Marillion)
"Fly Like an Eagle" (Steve Miller Band) -- with Geoff Downes (Asia/Yes) and Joel Vandroogenbroeck (Brainticket)
"Wish You Were Here" (Pink Floyd) -- Edgar Froese (Tangerine Dream)
"For the Love of Money" (War) -- with Ian Paice (Deep Purple) and Nik Turner (Hawkwind)
"Can't Find My Way Home" (Blind Faith) -- with featuring Steve Howe (Yes/Asia), Derek Sherinian (Dream Theater/Black Country Communion) and Mel Collins (King Crimson)
"2000 Light Years from Home" (Rolling Stones) -- with Simon House (Hawkwind)
"Riders on the Storm" (The Doors) -- with Billy Sheehan (Mr. Big) and Rod Argent (The Zombies/Argent)
"Blinded by the Light" (Bruce Springsteen) -- with Joakim Svalberg (Opeth) and Ginger Baker (Cream)
"Out of the Blue" (Roxy Music) -- with Simon House (Hawkwind)
"Old Man" (Neil Young) -- with David Cross (King Crimson)
"Dream Weaver" (Gary Wright) -- with Jerry Goodman (Mahavishnu Orchestra)
"I'm Not in Love" (10cc) -- with Rick Wakeman (Yes)
"Africa" (Toto) -- with Bobby Kimball (Toto) and Patrick Moraz (The Moody Blues)
Copyright 2012 ABC News Radio