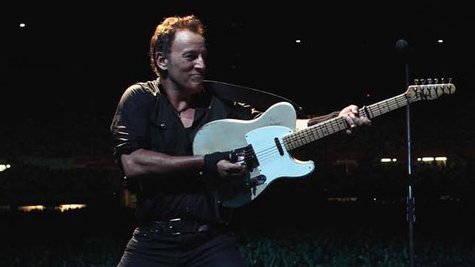 Bruce Springsteen paused during his concert Thursday night at Penn State University's Bryce Jordan Center to pay tribute to his home state, which has been devastated by Hurricane Sandy.
PennLive.com reports that Springsteen told the crowd, "We're here tonight with a little sadness in our hearts because, as a band, you cannot separate us from the Jersey shore. We're still just a glorified bar band."
Bruce added, "It's hard to see all those businesses washed away by a storm," and but predicted, "It'll be back." The rocker also gave a shout-out to first responders and volunteers who are helping out in the storm's aftermath, and also to New Jersey Governor Chris Christie . In addition, he performed his song "My City of Ruins," whose lyrics, now more than ever, reflect the sad reality of the region he has so often celebrated in his work.
Later in the show, as Springsteen took requests from the audience, he chose one to perform that many thought of earlier this week: "4th of July Asbury Park (Sandy)." At the end of the concert, reports PennLive.com, Springsteen took a poster from the crowd and propped it against the mic stand, leaving it alone on the stage ina spotlight. It read, "Jersey Strong."
Copyright 2012 ABC News Radio