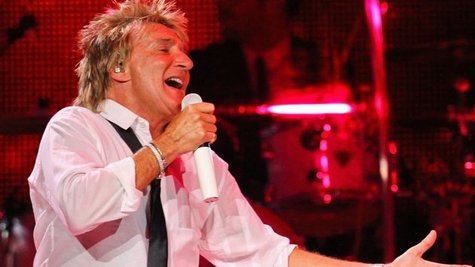 In their long and storied careers, Rod Stewart and Neil Diamond have performed for millions of fans worldwide. But now, they've been invited to sing for one very special person: the Queen of England.
Like countless pop stars before them, including The Beatles , The Bee Gees , Elton John , Barry Manilow , Tom Jones and Aretha Franklin , Stewart and Diamond have been booked to sing on the Royal Variety Performance , an annual benefit concert that's always attended by members of Britain's royal family. Queen Elizabeth II and her husband, Prince Phillip , will be in the audience for the November 19 show at the Royal Albert Hall in London. It actually will be Rod's second time performing at the event -- he previously appeared at the 2006 edition of the extravaganza.
This year's lineup, meanwhile, also features Alicia Keys , Kylie Minogue and opera singers Placido Domingo and Andrea Bocelli .
The concert marks the 100th anniversary of the Royal Variety Performance, which raises money for the Entertainment Artists' Benevolent Fund, a charity of which the Queen is a patron.
It remains to be seen if Rod or Neil will make a cheeky comment at the event, as The Beatles' John Lennon famously did back in 1963. Looking out at the well-to-do crowd, Lennon said, "For our last number, I'd like to ask your help. Will the people in the cheaper seats clap your hands? And the rest of you, if you'll just rattle your jewelry..."
Copyright 2012 ABC News Radio