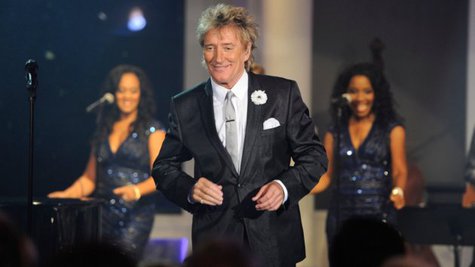 Rod Stewart took to HSN over the weekend to promote his first-ever holiday album, Merry Christmas, Baby , and the program was a holly jolly success. Almost 30,000 copies of the collection were sold during and after Saturday's show, HSN Live Presents Rod Stewart , which broke a sales record for the shopping network that the singer himself set. Rod's previous visit to HSN, which took place in 2010, marked the release of Fly Me to the Moon: The Great American Songbook Volume V and resulted in sales of about 26,000 copies. Stewart remains the biggest-selling music artist on HSN.
The special, shot on a holiday-themed set, featured Rod crooning a number of tunes from Merry Christmas, Baby , with accompaniment from a 20-piece orchestra and Grammy-winning composer and producer David Foster . The show was viewable on HSN TV, HSN.com, the network's Facebook page, HSN Mobile and via Skype.
During the program, fans were able to pre-order an exclusive two-CD Merry Christmas, Baby bundle that offered a bonus disc featuring some of Stewart's greatest hits, like "Maggie May," "Reason to Believe" and "Twistin' the Night Away."
As previously reported, Merry Christmas, Baby features guest appearances by Cee Lo Green , Canadian crooner Michael Buble and hip-hop/soul star Mary J. Blige , as well as a "virtual duet" with the late Ella Fitzgerald . It was officially released on Tuesday.
Copyright 2012 ABC News Radio